Bill Payment Center

Mineral Wells PSD is trying to take the hassle out of paying your water and sewer bill, with three payment options:
1. Automatic Debit from Your Bank Account
You can have your payment automatically deducted from your bank account and save the time and trip of making it in person. Your payments will be made on-time every month. Fill out this ACH Payment Agreement and return it to our office – along with a voided blank check – to get started.  At any time, you can change which bank account you wish to have your payments debited from by completing our ACH Change of Account Form; or discontinue automatic debits by submitting our ACH Cancellation Form.  Contact us for more information.
2. Pay Online
If you like, you can pay online using our online payment service!
3. Pay by Mail
If you like, you can mail your check or money order, along with the bill stub, to:
Mineral Wells PSD
P O Box 266
Mineral Wells, WV 26150
4. Drive-up Drop Box
If you're out and about,  just drop off your payment in our convenient drive-up drop box.
Click here for driving directions!
Mineral Wells PSD
53 Fox Run Drive
Mineral Wells, WV 26150
5.  Pay by Phone
1-877-387-1996
How to Read Your Bill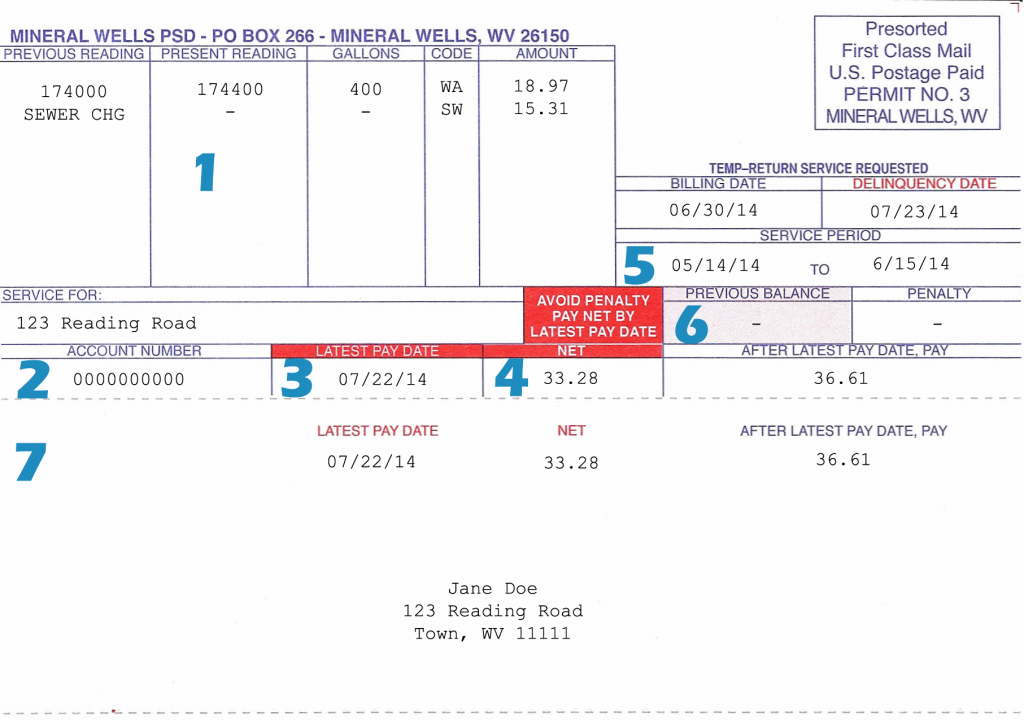 1. Itemized Charges – all charges currently due, including water, sewer and outstanding balances. Charge codes such as WA and SW are explained on the back of your bill. See Rates & Fees for further explanation of our rate structure.
2. Account Number – your unique account identifier. When contacting us with questions, try and have this number available.
3. Payment Due Date – to avoid late charges, pay by this date. If you are unable to pay on-time, contact us for payment options.
4. Net Due – the total amount due by the due date.
5. Service Period – the period of time covered by the payment shown.
6. Past Due Balance & Penalty – a 10% penalty is charged for bills paid after the due date. A termination notice will be issued if your bill is not paid in a timely manner. Additional fees may be applied if your bill is not paid by the termination date.
7. Bill Stub – tear your bill apart at the perforated line, and include the bottom portion of your payment with your payment. This will help ensure your payment is properly credited to your account.
Payment Assistance
If you need assistance paying your bills, contact:
WV Department of Health & Human Services – 304.420.2560
Wood County Community Resources – 304.422.5339
Salvation Army – 304.485.4526